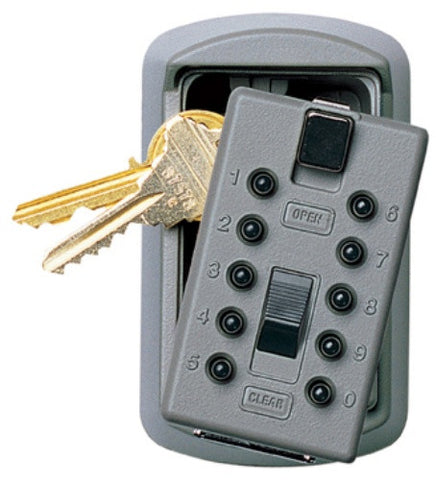 Key Safe w/ Push Button Titanium Cover (001193) (#17374)
The KeySafe Slimline push-button key lock box is designed to be permanently mounted to any wall or flat surface. *Mounting hardware is included.* It is constructed of sturdy metal and the interlocking faceplate deters tampering and unauthorized access.
The push-button combination provides access to all the individuals who need it without duplicating, distributing, and tracking physical keys. Just change the code when you need to change access to your keys.
The sleek shape of Key Safe Slimline 001193, in Kidde Access Point TM consumer products, lets you store keys on any flat surface. Slimline features an internal compartment large enough to hold two keys and an interlocking faceplate to resist tamper.
Features: Re-settable pushbutton combination. 1024 possible combinations. Holds up to 2 keys.
Dimension: 100 (H) x 59 (W) x 41 (D) mm.
Package Type: Clamshell.
Color: Titanium.
---
We Also Recommend